Chianti Pieve Castelletto
Region: Tuscany
Grapes: Sangiovese
Abv: 12%
Tuscany and Chianti Wine
In addition to splendid landscapes, Chianti's popularity is also directly tied to its fine red wines produced in the region and known generally as Chianti wine. The Chianti region, extending roughly over the two main city provinces of Florence and Siena, is characterized by a combination of almost perfect weather and soil that produces a precious wine considered one of the best wines around the world.
The tradition of cultivating vines in Chianti goes back a long time in history, back to the Etruscans that inhabited the area before the Roman empire. Thanks to written evidence dating back to these times it is now known that the Etruscans not only cultivated vines and conducted experiments on grafting and creating hybrids but also produced wines that were widely appreciated.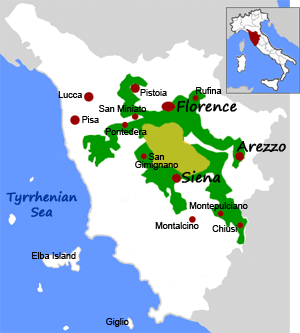 Today, Chianti wine, depending on the area of production, is divided and recognized with the following denominations – all called Chianti + the denomination:
"Classico", the more well-known of the Chianti wines. Production is limited to area between Florence and Siena, as seen in lighter green area on the map to the right.
"Colli Aretini", hills towards Arezzo
"Colli Fiorentini", hills around Florence
"Colli Senesi", hills around Siena
"Colline Pisane", hills towards Pisa
"Montalbano", area in the Montalbano hills around Pistoia
"Montespertoli", hills around Montespertoli
"Rufina", area of hills near Rufina to the east of Florence
In 1984, Chianti obtained the denomination D.O.C.G. (Denominazione d'Origine Controllata e Garantita, or Controlled and Guaranteed Denomination of Origin), which is the highest type of protection and recognition for quality Italian wines.
Cantine Pirovano
A century of history, a passion that has been handed down to the present day from generation to generation. A firm managed by a close-knit family with the only goal of producing wines with great care and great attention to quality, mixing indispensible modernity with respect for traditions.
Our job has always been the development of the Italian wine-growing heritage with the great potential still partly to be explored.